Siding
Look for cracks, loose pieces, lifting, or warping.
Paint
Look for peeling, chipping, blistering, stains, and any indication of damage.
Foundation and exterior surfaces
Check for cracks and holes, areas not level or uneven, loose or missing stucco or mortar.
Porch or entrance area
Examine steps, handrails, posts, and look for loose or unsafe features.
Roof
Look for worn or bald spots, any missing shingles or tiles; determine age.
Chimney
Look for tilting, cracks, and any missing bricks or mortar.
Gutters and downspouts
Check for signs of leaks, rusting, and condition of joints.
Windows and screens
Look for broken glass or screens, crank handles, if any; check for proper caulking.
Walls and fences
Look for holes and any missing fencing or rotted posts.
Driveways and sidewalks
Check surface condition and look for holes or cracks; check for levelness.
Proper drainage
Water from rain should flow away from property.
Lot and landscaping
Check condition of grass, shrubbery, plants, and trees. Check root condition of especially large trees close to any buildings.
1 - Driveway Concrete often cracks due to drying and shrinkage. Excessive cracks often create trip hazards and correction may require replacement of the concrete. Asphalt driveways need regular maintenance and re-sealing at times.
2 - Sidewalks Walks can become damaged by tree roots and settlement. Excessive cracks can often be repaired by replacing sections of the sidewalk.
3 - Retaining Walls These are used to stabilize steep banks which control soil movement. Water that is allowed to collect behind the wall can exert pressure causing the wall to move. Drainage provisions are often not evident with a visual evaluation. Sometimes efflorescence ( a white powdery substance) is present on the wall due to no or blocked drainage. Retaining walls should appear straight or tilt slightly toward the earth they support. Walls that are cracked or leaning will need structural evaluation and repair.
4 - Patio Patios are similar to driveways and sidewalks with respect to cracks and movement. If the patio is covered with carpet, it is recommended that the material be removed for evaluation. Patios should be installed to drain water away from the house.
5 - Patio Cover Structures are built over decks, patios and porches to provide protection against the rain and shade from the sun. These structures are considered to be a structural element and require proper design and attachment. In most areas a permit is required for construction and it is recommended that you obtain all information available. If the cover is integral with the house roof, information will be provided in the roofing section of the report.
6 - Decks and Porches Decks that are higher than 30" above the surrounding ground will need a guardrail that is at least 36" tall. New installations should not have any space in the railing that is larger than 4" in width. Hand-rails for steps to decks and porches need to be easily gripped. Wood decks or porches should be supported by concrete footings and clearance of the wood to the soil is critical to avoid deterioration. If there is no access to the area below the deck or porch it is recommended that this area be opened for inspection. Many jurisdictions require a permit for decks and information should be obtained, if available. Decks or porches with waterproofed surfaces need regular maintenance and re-sealing approximately every three to five years to prevent cracking and deterioration. If carpet or other material covers the deck, we recommend removal for evaluation.
7 - Fences and Gates Our evaluation of fences is limited to those areas which hay directly have an affect on the condition of the house. Fences that are surrounding pools must be of sufficient height for safety. Each jurisdiction has safety height standards. Gates that enter pool areas must be self-closing and latching.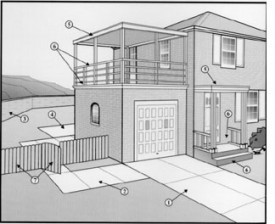 8 - Exterior Stairs Uneven steps are a trip hazard which should be corrected. The difference in the distance between one step and another should be no greater than 3/8 inch. Hand-rails should be secure and have a grip able surface. Two by four inch or two by six inch boards are not considered appropriate for hand-rails unless they are routed with a grip. Current standards call for narrow clearances between rails such that a four inch sphere may not pass through. Older rails had larger openings when installed and upgrading should be considered for child safety.
9 - Exterior Walls Exterior wall coverings protect the wall framing and interior finishes from the weather. Any openings or penetrations in the covering should be properly sealed. Earth should not touch the wall covering and a clearance of approximately 4 to 6 inches should be maintained. Firewood should not be stored against wood framed walls. Planters that are against the house walls can promote rot and should be corrected. If the wall system is E.I.F.S., we recommend a fully certified inspection for further information.
10 - Trim Trim includes the eaves, soffits, facia and molding around the exterior. The eave is the portion of the roof that overhangs the wall. Soffits are enclosed eaves and should be properly vented to prevent moisture damage. Facia is the board installed at the end of the eave to give the house a finished appearance. Many times, water running off the roof flows onto this board causing damage.
11 - Chimney In this section of the report you will find our evaluation of the exterior of the chimney. Spark screens and rain caps are used over the chimney flue to prevent sparks escaping and water entering the fireplace. The top cement covering of the brick also diverts water from damaging the masonry and cracks should be sealed for protection.
12 - Sprinkler Systems Our check of the sprinkler system is limited to only those found around the house and does not include groves, orchards or electronic sprinkler systems. Adequate coverage is also not included.
13 - Hose Faucets If hose faucets are winterized and shut off, they cannot be inspected. Anti-siphon devices for hose faucets prevent any contaminated water from being siphoned back into the house supply. These are easily installed if none are provided.
14 - Gutters and Down-spouts Water tests are not performed during this inspection. Down-spouts should lead well away from the house foundation. Gutters should be cleared regularly to avoid damage to the structure and prevent blockages. Flat roofs that drain into area drains should be provided with a second drain system that will operate should the primary drain become blocked.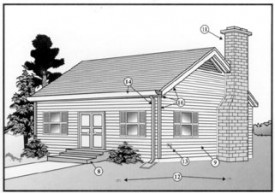 *Note The inspection of the foundation components is limited to visible and accessible areas only. Finished or partially finished basements limit access. Moisture in basements and crawl-spaces is a common problem and any indication of water penetration should be reviewed. Control of rain and surface water around the house is critical to keeping foundation areas dry.
Moisture can cause decay and deterioration to wooden components and excessive water can damage foundations. Regular inspections and constant water management is advised.
15 - Lot Drainage
16 - Slab on Grade
17 - Raised Foundation
18 - Basement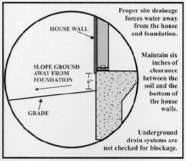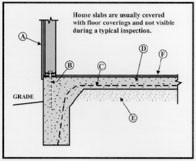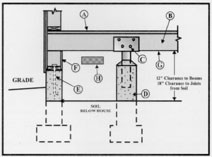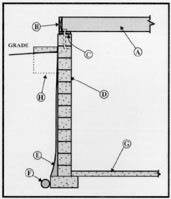 Roof
19 - Asphalt Shingles and Wood Shingles
Asphalt Shingles: Commonly called composition shingles, this material has a typical life expectancy of 12 to 25 years, depending on many factors. The number of roofs installed over existing shingles is limited to three and in some jurisdictions only two are allowed.
Wood Shake and Shingles: Wood roofs will typically last 20 to 35 years depending upon the thickness and quality. Annual maintenance is required on wood roofs which consists of replacing the weather-damaged shakes. In some areas the constant moisture can cause the wood to deteriorate. Care against fire is advised.
20 - Clay and Concrete Tile, Slate, Metal and Fibrous
Clay and Concrete Tile: These materials are very durable and have anticipated life of 30 to 50 years. The tiles, however, are brittle and can be damaged, so the roof cannot be walked on. The inspection is very limited.
Slate: Considered one of the longest lasting roofing materials, slate can endure 50 to more than 100 years. A very brittle and expensive roof, inspections are limited.
Metal and Fibrous: Metal roofing comes in many forms from shingles to panels. Fibrous roofing is a mixture of various materials including cement and perlite.
21 - Built-Up Roofing, Single Ply and Foam
Built-Up Roofing: The surface covering is the distinguishing feature of this roof cover. Maintenance consisting of repairing any worn areas is required. Installed on low slopes, these roofs should be inspected annually due to the potential for poor drainage.
Single-Ply: A relatively new roofing system, single-ply membranes are gaining in popularity. The roof covering consists of large sheets of a rubber or PVC-based compound.
Foam: Polyurethane foam with elastomeric coating. This roof requires periodic re-coating to extend its service life.
22 - Exposed Flashing